A Notion About Quilting Notions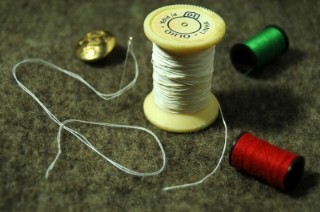 If you are just beginning to quilt, you may be wondering what quilting notions you need to get started. You do not need to go out and buy these all a once, however some of them come in handy. The most essential item you need is a good, sharp scissors.
Quilting Notions
Rulers with edges made of metal help quilters create templates and facilitate the process of cutting fabrics or cardboards with knives or rotary cutters.
Meter rulers or yard sticks come in handy with set squares in order to cut difference pieces of fabric.

Now for the set squares, they measure right angles in the fabric and coupled with meter rules, they enable the quilter to determine how much material he or she will cut.
Due to their flexibility, tape measures are tools that also measure different pieces of fabrics.
A pair of compasses would be used to draw circles on different materials.
Washable markers are used to make markings on fabric and will wash away when the fabric is washed in water
Chalk and dressmaker's wheels can also mark fabric. Like washable markers, the chalk will dissolve in water.
Dressmaker's scissors can be only used to cut fabric. Cutting paper or other materials will dull the blades.
You need a seperate paper scissors, as the name suggests to cut paper.
Scissors used in embroidery are small and sharp to be used in quilting for special materials and fabric. Thanks to their unusual shape, these scissors can cut thread or trim certain fabric.
Pinking shears represent multi-bladed tools that can prevent materials from fraying and they can also cut decorative edges.
Rotary cutters can be used with cutting mats to cut through various layers of fabric simultaneously and thanks to this ability, they come in different sizes that work accordingly; whereas small rotary cutters can cut curves in a fabric and they can only cut few layers at once, large rotary cutters can cut straight lines in a fabric and they can cut several layers at once.

Cutting mats are used together with rotary cutters, to protect the blade and the table upon which the materials are stored. Mats can also cut right angles, but only if they are printed grid mats.
Another needed quilting notion is quilter's needles are a special type of needles that are used in patchwork and hand sewn appliqué.
Betweens needles can create small stitches.
Crewel needles serve as embroidery stitches.
Quilting pins different from the dressmaker's type of pins because the former are longer and the thread circulates through the fabric easily and smoothly.
Safety pins stitch together quilting blocks.
Beeswax is used as a type of glue applied to quilting threads to insure threads stay together and form a smooth fabric.
Thimbles represent essential quilting notions because they help push the needle to pass through layers of fabric one at a time. Thimbles come in a variety of types and sizes and they are used as collectible items by quilters or sewers.
Rippers are tools that remove stitches.
Irons remove irregular forms inside a fabric and press the patchwork to make it smooth.
Embroidery hoops help during the quilting process.
Wooden frames help in hand quilting.
A plastic frame is used in machine quilting together with spring closures made out of metal.
Ribbon can be used for decorative purposes, in interesting patchwork or appliqués. It can be made from velvet, man made material or even satin.
Trimmings include flat ribbon, tassels or fringing. Flat ribbon tapes can decorate interesting patchwork or make unusual margins to the fabric
Lace has decorative purposes.
Quilter's gloves protect the quilters from harming himself when using needles or rotary cutters.
Needle threaders are very helpful.
The quilting notions above are intended to ease a beginner's transition with the world of quilting and can prove of great help. They need not be purchased all at once, you can collect items over time.
More on