How To Make a Denim Quilt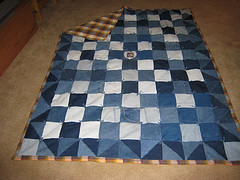 Denim Quilt Pattern For Beginners
Denim quilts are durable and sturdy quilts. Not everyone is fond of neat, vivid, flowery patterns. Just imagine how a thirteen year old boy would react if you'll give him a yoyo quilt made in pink, orange, peach and red shades and printed flowers? He might probably use it for his dog. No I'm not kidding, just right now go to your son or nephew and ask him will he accept one like that? But what if you give him a quilt made up of his favorite colors in jeans? Bet me he'll love it and keep it with him for all his life.
For every boy, blue jean quilts are priceless. You can even make a small quilt made up of only pockets, and he can hang it on the wall and use the pockets to stash the things in them. Denim quilts are very popular being tough and resistant. You can even make a small denim quilt for your pet or you can make an oversized quilt for the picnics.
Now all of you might be thinking how to make denim quilt. This lovely quilt is very easy to make as it needs a basic block pattern, either a bargello design or any other block design.
It is ideal for a denim quilt to look for heavier denim, not the one that is lighter and is used for shirts. Find one that is used in heavy jackets and pants. Heavy denim is easier to make blocks, as it can stay its place without slipping. But with heavy denim you are bound to make some basic patterns, but who wants an intricate ones with denims?
We all use denim pants regularly, every sex, every age and everywhere. Every one of us has some used, worn off, old fashioned denim pants or denim skirts. Why not recycle them for a good use? If you don't have any available, your local thrift store probably does. Wash the jeans and dry them. It can take forever to pluck the seams apart and even if you do so you might get only a half inch more fabric? It is better to cut it with a sharp scissors.
Examine the denim and throw away fabric that's thin and stretched out of shape. Be sure to take a close look at the knees and seats. Now iron all of your denim pieces and you're ready to cut patches for the quilt. You will need extra sharp rotary cutter for denim.
Now cut the denim into pieces right in accordance to your pattern. Now join all the pieces to form a block. Complete piecing. You might not need batting for denim as it is heavy itself. But still if you want something in it then use a thin batting or a flannel piece. Now use a flat blue colored sheet for the back lining. Make a binding either with a darker shade of denim or you can even use a plain fabric in contrast. Another option is to make a self binding by folding the backing over the front edge of the quilt and sewing it in an one inch strip around the front.
Denim quilts are easy to make and are comfortable to use. Washing, ironing and maintaining them is very convenient. Blues can be fun, they are not always depressing.