How To Make a Lap Quilt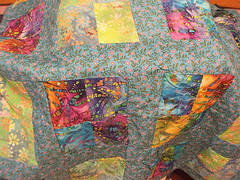 Beginner Quilting Tips for Making a Lap Quilt
Learning how to make a quilt will provide you with soft, cozy and small quilts that are just perfectly sized to fit in your lap. They are just like the smaller versions of the bed quilts.
To make them cozier you can use extra batting and use wash and wear as the fabric choice, as cotton needs ironing and the batting can be compressed with the ironing.
Wash and wear does not need ironing as it does not get crumpled and wrinkled on washing.
To learn how to make a quilt you should have the following information.
LIST OF TOOLS AND EQUIPMENTS: (For more info refer Tools & Equipment for Beginner Quilting)
· 3 yards coordinating material
· Coordinating flat sheet
· Batting
· Threads
· Scissors
· Sewing machine
· Iron
· Sewing needles – Universal size 12
· Rotary cutter
· Rotary ruler
· Cutting mat
· Pins- beaded head
· Needles
· Spray starch
· Pattern for a lap quilt
HOW TO MAKE A LAP QUILT:

1. Purchase 3 yards of cotton blend quilting fabric (Wash and Wear). Choose coordinating colors and patterns. You can blend solid colors with each other or you can make combinations in printed ones or even in plain colors.
2. Prewash the fabrics separately. Make sure that colors are fast and the fabrics don't shrink. Now dry the fabric completely and iron it afterwards with adding the spray starch to fabric. The fabric should be completely dry and firm without wrinkles.
3. Now place the fabrics in form of a pile, one over another on the place mat. Now take the ruler and cut 150, 3 1/2 inch by 3 1/2 inch squares with the help of rotary cutter. Make sure the pieces are of equal size and are not fringed or irregular.

4. Arrange the squares in a pattern. Allow for ten rows of fifteen squares. Stack the squares for each row into separate piles.
5. Sew the squares together to form individual rows. Sew 1/4-inch seams. Iron the seams flat. Sew all of the rows together, forming a 10 by 15 square quilt.
6. Place the chosen batting material above the piecing. The top of the piecing should be facing the mat and the stitched side should get along the batting. Now place the lining fabric over it.
7. Now you have to stitch all three layers to each other with the help of the sewing machine. You can add quilting patterns but for a beginner it is advisable to stitch around the basic blocks, all over the quilt.
8. Trim excess batting from the edges of the quilt. Pin casing (binding) to the edges of the quilt around the entire outside. Use a sewing machine to sew the casing (binding). Trim any excess thread.
Now enjoy sitting in your lounge on sofa with your lovely lap quilt in your lap, giving you the ultimate feeling of placate and comfort.
More on How to Make a Quilt - Lap Floral Quilt